Mighty Gunvolt Burst
NEWS
7/27/2017

Ekoro is now available in Mighty Gunvolt Burst - for free! Make sure to get her before the free download period is over!

7/20/2017

Details about our first DLC Character, Ekoro have been revealed! Check out her introduction and get ready to download her on 7/27!

6/28/2017

Mighty Gunvolt Burst is out today on Nintendo 3DS! Get it now on the 3DS eShop!

6/15/2017

It's here! Mighty Gunvolt Burst is available today on the Nintendo Switch eShop! Get ready to start your Burst Combo!

6/14/2017

Profiles for all 8 bosses and stages have been added! Check them out and get an edge in battle!

5/19/2017

Mighty Gunvolt Burst official website now open!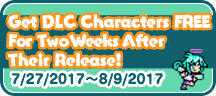 Game Overview
Threads of fate are bound together in a strange new virtual world!
Gameplay Systems
Burst Combo
Customization System
Character Growth
Pixel Stickers
HD Rumble Feature on Nintendo Switch
Product Infoormation
Mighty Gunvolt Burst Hardware Nintendo Switch(Digital Only Nintendo 3DS(Digital Only)